Slideshow photo credits: Lion of Judah, Andrew Moore; The Bath of the Queen of Sheba, A.Davey; Beautiful Ethiopia & Pelicans on Lake Tana, mariusz kluzniak
Your African Heritage and Antiquities Tour
On this educational and historic tour, you will learn about Ethiopia, the Cradle of Mankind and Civilization!
Ethiopia, situated in the Horn of Africa, has a unique cultural heritage. It is home to over 80 ethnic groups living together in peace and harmony; the country is also considered one of Africa's most stable ones.
Ethiopia boasts a rich religious legacy that covers Christianity; it was a land that was Christian before most of Europe, yet it was a place unknown to Europe for over 1,000 years!
Immerse yourself into ancient Ethiopia; on this historic and educational tour, you will experience an Ethiopia unlike many others – a land of diversity and unity.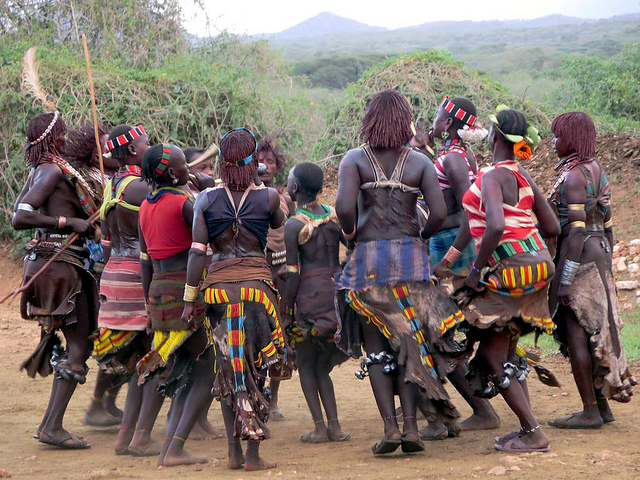 Photo credit: Hamer Dancers, David Stanley
Book your tour today!
On this tour, you visit 5 Ethiopian cities. You will view the antiquities and treasures, including crowns and manuscripts, of ancient and modern Ethiopia!
Lucile Butler (323) 731-1187; Jennifer White 619-408-5510; Divine Villas & Vacations 323-813-8230
Please request Tour Code: EH-101
Addis Ababa
The founding, growth and development of Addis Ababa, established in 1886, is not rooted in colonization; Addis Ababa is often referred to as the "African Capital" due to its historic, diplomatic and political significance. To the foreign visitor, the city is a gateway to the mystical and historical.
Your Tour Experience
Treat yourself to an unforgettable authentic travel experience
Church of Our Lady Mary of Zion
The ancient city of Axum was the center of the marine trading power known as the Aksumite Kingdom, which predated the earliest mentions in Roman era writings.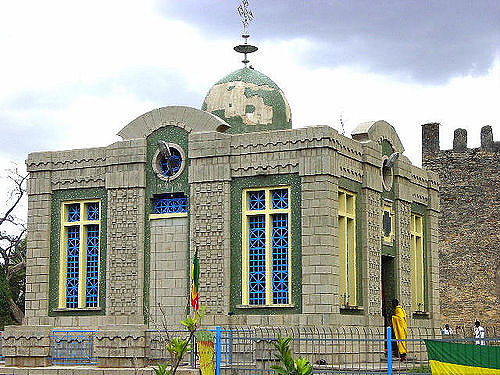 Photo credit: Original Church of St Mary of Zion, Nancy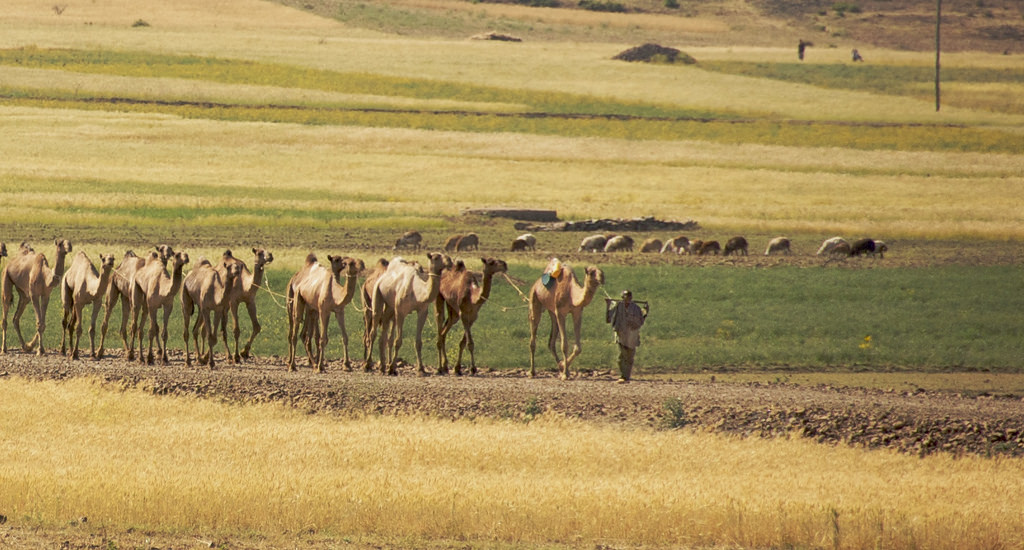 Photo credit: Camel Caravan, A.Davey
Sightseeing highlights include the Coronation Yard, Axum Stelae Field, Tombs of Kaleb and his son Gebre Meske.
CURRENT TOUR DATES:
Friday May 5th, 2017 thru Sunday May 14, 2017 $2995*
*Departures from Los Angeles (LAX Airport), Washington, DC (Dulles Airport) or New York, New York (Newark Airport)
TOUR FEATURE INCLUDES:
Round-trip air: USA – Ethiopia – USA
Meet and assist upon arrival by your Ethiopian Tours representative
Ground transportation throughout
English-speaking Ethiopian Tour manager throughout
6 Nights of hotel accommodation
Breakfast, lunch and dinner daily
7 Days of sightseeing tours
All domestic flights within Ethiopia
All transfers
All entrance fees
Hotel taxes and service charges
Porterage of one suitcase per person
Return transfer to airport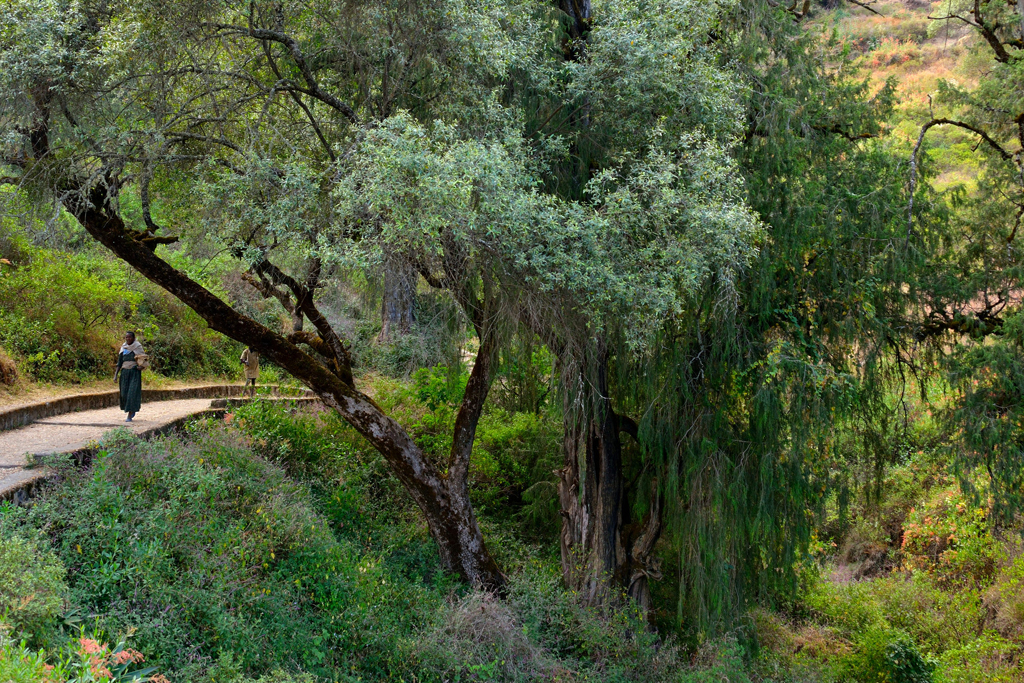 Photo credit: Lalibela, Ethiopia, Henrik Berger Jørgensen
WHAT DO OUR TOURS COST?
FULL PAYMENT OF $2,995.00
INSTALLMENT PLAN – Deposit and two (2) payments
$200 Deposit | $1397.50 First Payment by April 17, 2017 | $1397.50 Last Payment by April 21, 2017
YOUR DETAILED ITINERARY
Arrive at Bole international airport and meet and assist by ET-holidays representative. Depending on your arrival time, you will have Addis Ababa city tour. Addis Ababa sightseeing will include Mount Entoto for the panoramic view of Addis Ababa, National museum: home for the oldest and famous hominid fossil 'Lucy' or Dinknish, Bahata church, Ethnographic museum the then palace of Emperor Haile Selassie known as little Ethiopia and Merkato: the biggest open air market in East Africa. Along the way you will visit significant historical monuments of Addis Ababa.
Meal Plan: Breakfast, Lunch and Dinner
Overnight: Jupiter International Hotel or similar

Early in the morning fly to Bahir Dar. On your arrival our representative will take you to your hotel. In the morning you will take a boat cruise on Lake Tana to visit the 14th century Monastery of Ura Kidane Mihret which is the most famous of the Zegwe peninsula monasteries (beautiful mural paintings, religious books, processional crosses and sacred artifacts).
Afternoon drive 35km to the small village of Tis Abay to visit Blue Nile Falls, along the way enjoy the local life style and typical countryside of Ethiopia. Up on arrival hike through the beautiful scenery and cross over Portuguese bridge to the waterfall. Enjoy the fall and on the way back you will cross by boat the legendary Blue Nile River, which joins the White Nile at Khartoum (Sudan) then forms the longest river in the world. (Note that the volume of the water could be minimal depending on the season).
Meal Plan: Breakfast, Lunch and Dinner
Overnight: Blue Nile Resort or similar

Early in the morning drive 186km to Gondar. En route, you will visit Guzara castle, predates Gondarian castles. Then continue north via the scenic road. After lunch you will have a city tour. Gondar, once was the Royal Capital of Ethiopia which was founded in 1636 by Emperor Fasilides. It was a hub of art, music and literature for Ethiopia. Your visit will include the Royal enclosure, Fasilides bath and the fascinating Debre Birhan Selassie church which is well known for its intriguing ceiling paintings.
Meal Plan: Breakfast, Lunch and Dinner
Overnight: Goha hotel or similar

Early in the morning fly to Axum, A city more than 3000 years of history and once the center of a great empire and ancient civilization, home of the original Ark of the Covenant. The sightseeing of this ancient city includes St. Mary's Church, the sanctuary Chapel which is the repository for 'Ark of the covenant', the coronation yard, the Stelae Park, Tombs of Kaleb and his son Gebre Meskel, Ezana's inscriptions and Dungur palace (popularly known as ruins of Queen of Sheba's Palace).
Meal Plan: Breakfast, Lunch and Dinner
Overnight: Goha hotel or similar

Early in the morning fly to the holiest city of Lalibela. Lalibela is known for its well preserved Rock Hewn churches; each rock churches are carved out and crafted beautifully from a single include volcanic rock. Here you head on back to 11th c. mythical rock hewn churches of Lalibela; it is truly a world wonder. The time of Lalibela is the ultimate period of masonry. In the afternoon, visit the 1st group churches. Late in the afternoon enjoy the surrounding breathtaking scenery and take part in a traditional Tej or honey wine taste experience related with the local legend of Ethiopia.
Meal Plan: Breakfast, Lunch and Dinner
Overnight: Sabean hotel or Similar

After breakfast, visit the 2nd and 3rd group churches inside Lalibela town. In the afternoon, drive to Nakute Leab Church cave church, 6km away from Lalibela town. The easiest of all the outlying Monastery to reach, constructed by King Na'akueto La'ab, the nephew and successor of King Lalibela. After visit, drive back to Lalibela.
Meal Plan: Breakfast, Lunch and Dinner
Overnight: Mountain View hotel or Similar

Fly back to Addis. In the afternoon you will have leisure time and shopping. Late in the afternoon have a farewell dinner at one of the best traditional restaurant then drive to the airport for flight back home.
Meal Plan: Breakfast, Lunch and Dinner

Depart to the USA from Addis Ababa.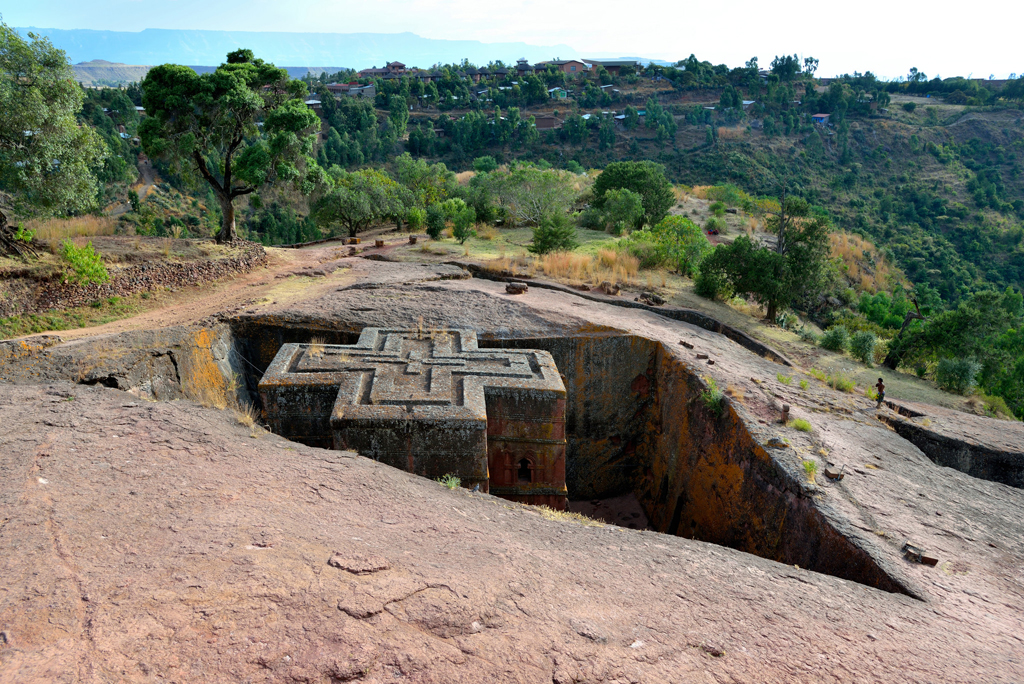 Photo credit: Lalibela, Ethiopia, Henrik Berger Jørgensen
Famous for its rock-cut churches and known as one of Ethiopia's holiest cities, it is a center of pilgrimage. Lalibela offers an exceptional testimony to the medieval and post-medieval civilization of Ethiopia.
Fasil Ghebbi, the remains of a fortress city within Gondar, covers an area of about 70,000 square meters. It was founded in the 17th and 18th centuries by Emperor Fasilides (Fasil) and was the home of Ethiopia's emperors.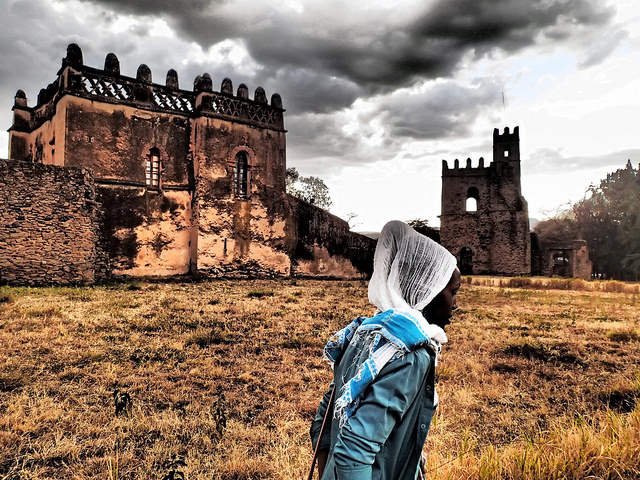 Photo credit: Fasil Ghebbi in Gondar, Ethiopia, SarahTz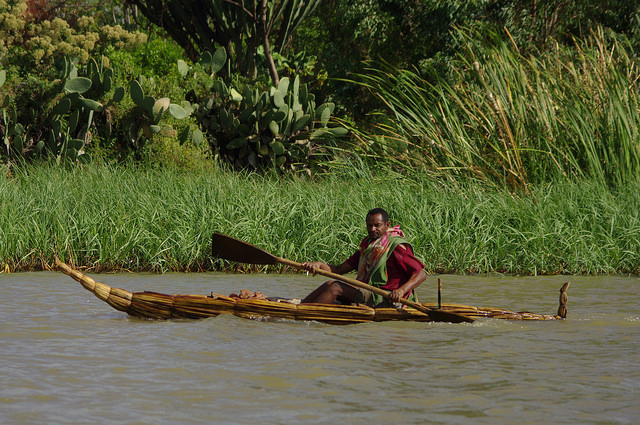 Photo credit: Beauty of Bahir Dar, Sightings of the Subtle

Bahir Dar, situated on the southern shore of Lake Tana, is one of the leading tourist destinations in Ethiopia and is known for its wide avenues lined with palm trees and a variety of colorful flowers.
Church of the Monastery of Na'akueto La'ab
Nä'akweto-Lä-'Ab, Emperor of the Zagwé dynasty, was the nephew and successor of Emperor Lalibäla. It is assumed he was probably the son of Lalibäla's elder brother and predecessor on the throne, Emperor Harbay.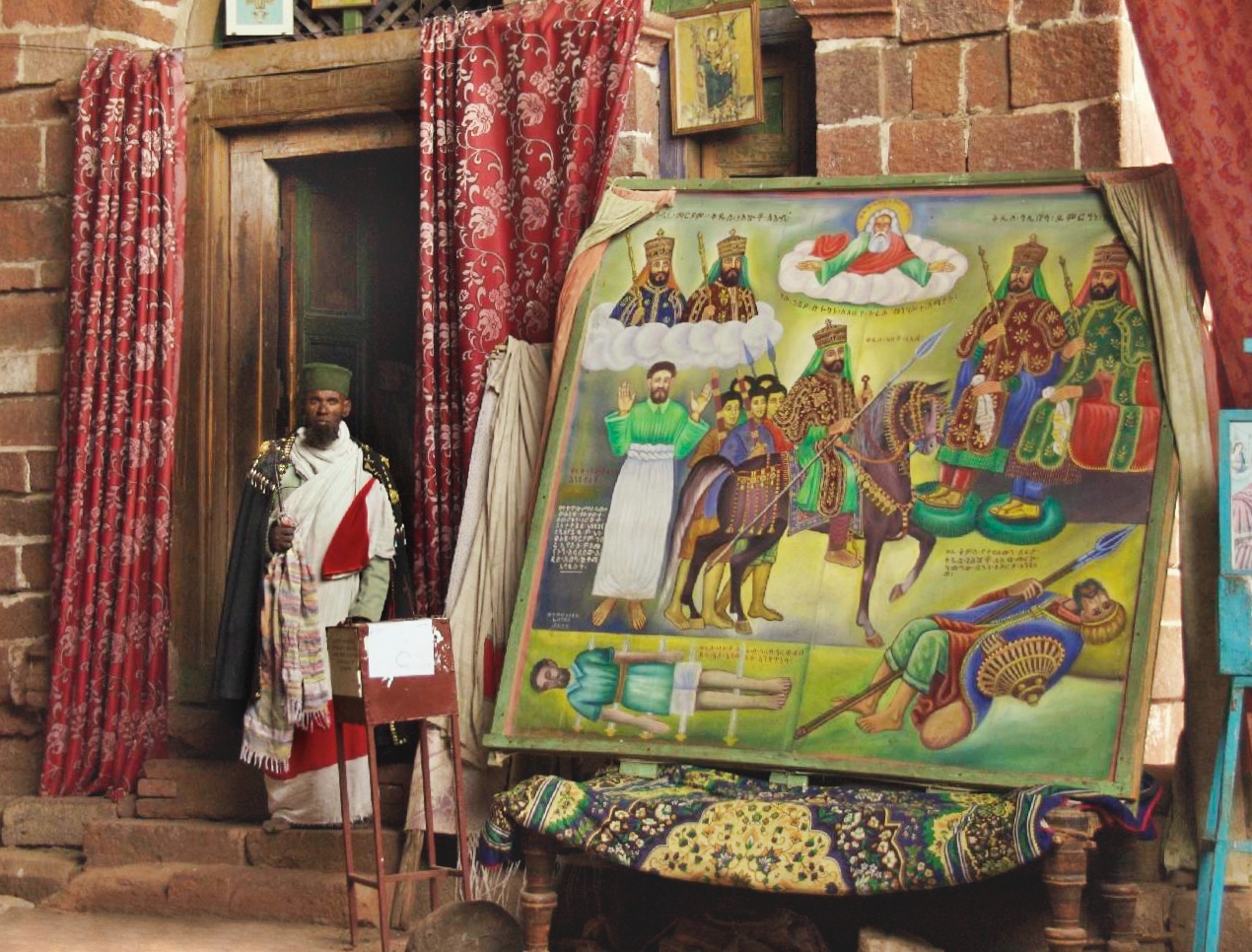 Photo credit: Priest with Large Canvas at the Church of the Monastery of Na'akueto La'ab A. Davey