Operation Book Bird in Seattle collected many books and donations thanks to your participation. We were able to deliver over 1000 books in Seattle ready to board an airplane leaving on 11/19/10 for Ethiopia.
A HUGE Thank You for a Successful Book Drive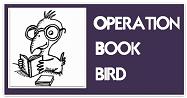 Operation Book Bird (OBB) is an organization that strives to help prepare the rising group of Ethiopia's leaders attending universities by providing them with educational materials and resources. By increasing access to information, OBB hopes to increase Ethiopian students' ability to perform at levels of their global counterparts. OBB in collaboration with the National Society of Black Engineers Alumni Extension Seattle Chapter (NSBE-AES: www.nsbeaes.org), Pan African Technical Association (PATA: www.pataus.org) and Aerospace Engineering Professionals has launched its first pilot project. This project will provide Wolita Sodo University's Engineering Library with an expanded number and variety of:
Engineering Text Books
Digital Books
Audio Lectures
Reference materials (dictionary, Encyclopedias, Britannica, Test Prep Guides (GMAT, MCAT, etc…)
OBB is currently arranging the delivery of these educational resources with the Boeing Company.
Beza Getahun, Beza Wodajo OBB Volunteers
OBB Volunteers Melon Feleke, and Semret Nicodimos (not shown)

Wolaita University Computer Lab

University to Receive the Books
Wolaita University in Ethiopia will receive the books. The school is located 390 kilometers south of Addis Ababa in Wolaita Sodo town.
Date Books will be Delivered
The books will be delivered in November 2010.
How the Books will be Delivered
It has been arranged that the books will be flown to Ethiopia on a delivery Flight of Ethiopian Airlines in November 2010.